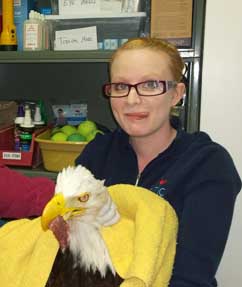 They say people and their pets eventually start to look alike. Well, this isn't exactly a pet but it seems to me that perhaps Katie needs to take a short break as she is having a sympathetic tongue reaction to the eagle's tongue. And that says "Take a break" to me.

The eagle is one of the many we are caring for at Bird TLC here in Anchorage. The bird is getting ready to be placed in an education program. And no, the eagle's tongue doesn't usually stick out like that. Katie's maybe, but not the eagle.

Thanks to Phil Quinn of Light'n Up Inc (333-0879) for being both a great volunteer, a wonderful electrician and someone who knows a great picture to take when he sees it.