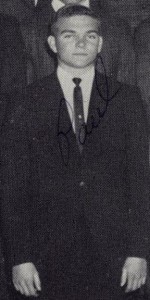 When I was young, and the Vietnam war raged, I made the most unlikely friend in a guy named Paul DuCharm. He was in military school with my cousin and was as gung ho a marine and soldier as you can get.  I was a peace marcher who sat in front of draft boards and marched on the Pentagon.  And yet Paul and I managed to find a way to be friends.
Then he went to Vietnam as a young marine, He died in less than 30 days.  Just more cannon fodder.  But he's never been forgotten. And then, last week, I got an e-mail from a friend of Paul's who was looking for information about him. And it brought back so many memories, some still very painful, most tempered by time into wistful sadness. He was so young. Like so many before and after him, he had so much life to give and he gave it all in one moment to a country run by old men willing to risk young men for something I could never quite understand.  That these young men had the courage and dignity to fight is amazing when the cause was often so blurry. But they did. Some did because they had no choice. They needed what the military offered in order to have a future, assuming they lived past the present. But for some like Paul, it was about believing.  This is what his friend wrote about him.  I want it on my website so that he is no longer just another number in a war that seemed sometimes to only be about numbers.  He was a beautful young man who died way too young and took part of my youth and innocence with him.
Paul M. DuCharm
Boys' Glee Choir
Barstow High School
Barstow, California
Spring 1963
PFC Paul DuCharm was born in Washington, D.C. on 15 December 1947.  PFC DuCharm graduated from Abington High School, Philadelphia, PA in 1966, then graduated from Valley Forge Military Academy in 1968. He enlisted in the United States Marine Corps in the Fall of 1968.
PFC DuCharm arrived in Viet Nam on 30 June 1969 and reported to Lima Company, 3rd Battalion, 5th Marines, 1st MARDIV.
On 18 July 1969, Lima Co, left An Hoa and began a reconnaissance in force combat operation called Durham Peak.  This operation was located in Antenna Valley and the Que Son Mountains in Quang Nam Province. This area is about 17 miles SW of Da Nang.
PFC DuCharm showed extraordinary heroism on July 27, 1969, while escorting an NVA prisoner aboard a USMC YK-10 (BUNO 154018) MEDEVAC helicopter, a large enemy force of NVA began employing heavy automatic weapons and accurate sniper fire at the chopper as it was departing. Ten Marines were killed, as the helicopter crashed and burned during take off.
Disregarding his own safety, PFC DuCharm fearlessly exposed himself to the intense hostile fire where he succumbed to his bullet wounds.  His bold initiative and heroic efforts inspired all who observed him.  By his courage, sincere concern for the welfare of his fellow Marines and unwavering devotion to duty, PFC DuCharm upheld the highest traditions of the Marine Corps.  He gallantly gave his life for his country.
PFC Paul M. DuCharm was in Nam for 27 days and was 21 years old.
Paul, you will never be forgotten.  Even as the years pass, Vietnam keeps coming back to us.  You gave the supreme sacrifice for your country.  You served the Corps honorably and died gallantly in battle.  PFC DuCharm, always a Marine, forever a Hero.  Miss you my dear friend.  God Bless and Semper Fi.
Thanks,
Michael Lau
Friend
Fox 2/7, 1st MARDIV
USMC