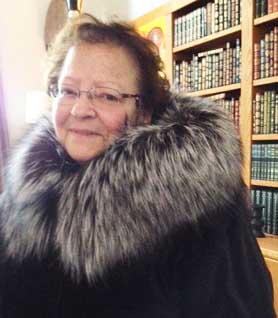 Honey buckets… just those words alone can send me into a paroxysm of odors; full buckets in the morning after a party, icy cold seats with the contents actually frozen yet somehow still smelly. And Pine sol – poor Pine sol – what did you ever do to deserve the reputation you hold in the minds and hearts of anyone who ever lived with a honey bucket. It's not something you can ever clean with again.
All these memories came rushing back when I read that the Leona M. and Henry B. Helmsley Charitable Trust gave $20 million to Engineering Ministries International (EMI) to help to put honey buckets into museums.
For those of us who have lived in Alaska a long, long time, this idea is not exactly new. It gets raised every few years with more or less enthusiasm from the Legislature to actually provide the funding needed to make that honey bucket museum a reality. And if we didn't get the money from the state when it was flush with cash during the pipeline years, then we are never going to get it. While there have been improvements in some small pockets of the state, the truth is that for the number of times we said we were going to put those honey buckets in a museum – well, let's just say I was young when I first heard we were going to do it. I'm old now.
Honey buckets have always been a kind of litmus test for how someone is going to survive in the Alaska Bush. You either managed to use them without barfing or you simply left the Bush.
My first experience with a honey bucket was during one of my first weeks in Barrow when I left the white tower that was the hospital/school complex and found out how the people in the village lived. I managed to not have to use the rest room but that couldn't stop me from seeing the honey bucket full of urine being carried through the room where the party was happening to empty into the old fuel or oil drum outside. That was when I first realized what all those barrels I saw around town were for. It also made me glad I hadn't walked over to peek into one before I found out what they contained.
The other thing I found out about honey buckets is that no matter how far away from your living/dining area it might be, if you didn't keep the door shut, the odor would waft. Oh, how it would waft. In fact, it wafted even with the door shut. I quickly learned to sleep with my face turned to the wall.
And running water? Well, there is nothing that quite says I love you like clean water coming out of your tap that you didn't have to first chop in frigid cold weather and then haul back to the house, stack on the side of the house and then come out and chop some off every time you needed water. And if that was a long and exhausting sentence to read, imagine what a chore it is to actually do.
I lived in Utqiagvik back when it was called Barrow. It was the seat of the North Slope Borough. I know there were a lot of Alaskans that resented the creation of the borough because of the money it would keep out of the state coffers. And god knows that the Borough was known to use its money fairly freely during those heady days when the money stream seemed endless. But the Borough also used its money for some very good things and sanitation was at the top of the list. The Borough was willing to put up the money needed to bring safe sanitation to all its villages. Even though progress might have been slow, it never stopped.
So, it's probably time that the rest of Bush Alaska be introduced to the joy of not chopping ice or emptying effluviant buckets.
Let's see if this money can bring the rest of the Bush to the standard of the North Slope Borough. We can only hope that we never have to see this headline again, "Sanitation coming to Alaska Bush so honey buckets can be sent to a museum."