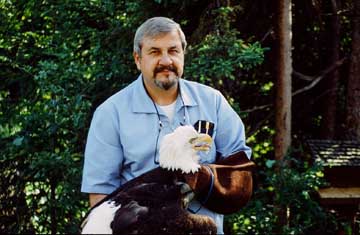 Bird Treatment and Learning Center Celebrates 20 Years of TLC:

Bird TLC has been returning birds to the wild and educating the public since 1988.
What: 20 Years of TLC: A Bye-Bye Birdie Event

Where: Bird TLC Property above Potter Marsh (aka Old Rabbit Hutch)

When: Saturday, August 23, 2008 11-4pm
Come celebrate the 20th Anniversary of Bird Treatment and Learning Center and the end of the migratory bird season.
This event will include live education birds on display from 11-1pm with a special presentation featuring some of the oldest birds in our program at 12:30. Various speakers will speak on the history of our organization, the importance of wildlife rehabilitation and the significance of our community partnerships over the years. We will hear Dr. James Scott, DVM, founder of Bird TLC will share his memories. There will be activities for children in a kid's activity tent from 11-1, and food and beverage available from local vendors. Bird TLC merchandise will be on sale at a discounted price. And, of course, a Bye-Bye Birdie Event wouldn't be complete without a rehabilitated bald eagle release which will take place around 3:00pm.
This occasion also lends the opportunity for Bird TLC to say farewell to our dear friend One-Wing who recently passed away. One-Wing was one of the first bald eagles to come through the center after the Exxon Valdez Oil Spill in 1989. Due to injuries sustained One-Wing could not be released and became the mascot and blood donor for other unfortunate eagles. He was with us for close to 20 years until this past spring when he passed away due to natural causes. Native drum groups and elders from around the state will be present to help us commemorate his passing with an ash spreading ceremony.
This event is free and open to the public. We hope you will join us in celebrating 20 Years of TLC! For more information call Bird TLC at 562-4852 or visit our website at http://www.birdtlc.net.
Directions to our property: Take the New Seward Highway south to the Rabbit Creek Exit and take a left. After you cross over the bridge turn right onto the Old Seward Highway. The property is a few blocks up on the right side of the road.