46 years ago today (and it was a Monday then too) I was on a plane flying from JFK to Anchorage. Two days later, I would go on to Utqiagvik where I'd spend the next nine months falling in love with the Arctic and its people. But on Oct. 1, 1972, the only thing I felt was fear and apprehension. I think I started crying when the plane took off from New York and didn't stop crying until I landed in Anchorage. Then my poor Adeline, the parrot who moved to Barrow with me, and I spent the night at the old ANMC quarters. I continued crying. She just looked very puzzled and unhappy. All in all, not the most fun trip of my life
Truth to be told, if I'd had the money, I'd have bought a ticket back East and left immediately. But I didn't. So I stayed. I'm very glad I did.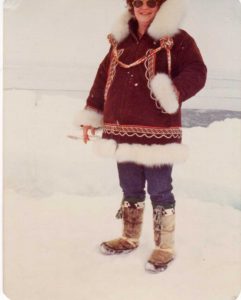 And this is my first parka, courtesy of Emma Bodfish, and first mukluks, courtesy of Mary Edwardsen. I was a very lucky young lady.