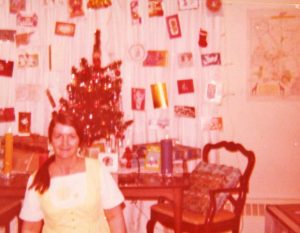 Sonya Hadzima Rogers – best friend who kept me going that first winter in Utqiagvik.
Don't remember my wedding date. Don't remember the day I graduated from college. Don't remember my nursing school graduation. Do remember two things very clearly – the day I lost my virginity and the day I first set foot in Barrow (now Utqiagvik).
It was 46 years ago today. It was cold and snowing there. I was greeted by Dr. Matsutani, the lab tech Grace and a nurse named Sonya. I thought it was so wonderful to have such a welcoming committee until I realized the hospital had been short staffed for months and my arrival was what allowed the nurses to take annual leave. I could have been an ax murderer with a nursing degree and they still would have been happy to see me.
All these years later, the winter I most remember is my first winter in Utqiagvik. This was back when the Arctic was really the Arctic. We had a huge amount of pack ice, below freezing temps with no warming until May and a community that closed in on itself in the darkness and had some pretty wonderful times. I learned about the Christmas games – actually beat one of the women in town in the finger pull. That's when I found out I'd have to come back the next day and defend my title. Didn't happen. They were waiting for me. My fingers have never been the same since. And the women proved that skinning a seal and butchering a whale creates stronger fingers than all the nursing procedures in the world.
I was sad the day I left Utqiagvik, sadder than the day I left NYC for the Arctic. I knew a part of my life that I found both precious and frustrating, wonderful and frightening, amazing and overwhelming was ending. Nothing I have done since then and nothing I did before then has ever equaled that adventure. I learned what a honeybucket was and how to use it without barfing. I learned how to pickle maktak, clean ptarmigan, make miqiaq and walk on ice while only falling every third step. I learned I loved the tundra, enjoyed the dark season and reveled in the icy cold. I learned about a traditional culture and its amazing strength and resilience and the lasting damage of a century of dominance by a foreign culture.
I had a wonderful life there and wouldn't give up a second of it for anything – even the bad times because they were part of what shaped me also.
So to all the friends I left behind, I still miss you (no, Sam, not you) and wish I could come back and do it all over again.